How to become an Estate Agent
Do you love open house viewings and snooping around show homes? Are you infatuated with the plethora of property TV shows that are beamed into our homes, seemingly 24 hours a day? Then now is the perfect time to become an Estate Agent.
Given the steady rise in house values over recent decades, as a nation we're obsessed with moving up the property ladder and flipping homes for profit. Indeed, in testament to this, the UK housing stock is calculated as being worth £6.79 trillion, some 3.65 x GDP. 
So if you're passionate about the property market and want to join this dominant market sector, then this is the career for you. With no formal entry requirements, it's popular among people from all walks of life, from school leavers and graduates to those looking for a change of career.
You can also enter this profession from a variety of professional backgrounds, including administration, legal or sales roles.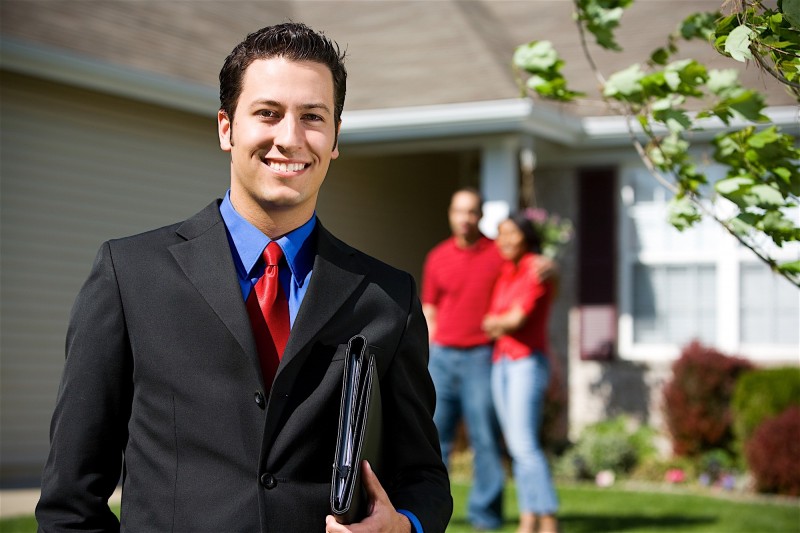 What does an Estate Agent do?
Estate Agents sell property, specialising in one of the following areas:  
Residential properties, dealing with private homes and property management 

 

Commercial properties, which includes industrial, office and retail space

 

Land and estate management

 
Your main job role will be to value and market properties, negotiating the best price for your clients. This job is all about liaising – not only with the vendor and the buyer – but also with conveyancers, solicitors, building societies, banks, mortgage brokers, surveyors, other Estate Agents and even auction houses.
Estate Agents can also work within the lettings division of an estate agency, managing rental properties.  
What do Estate Agents typically earn?
Estate Agents earn their fees from charging the seller a percentage of the agreed selling price, which varies from below 1% to 3.5%.  
Salaries are typically composed of a basic salary plus a commission, which is based on a percentage of your sales. Typically the higher your basic wage the lower your commission, so while a low salary might be advertised, don't overlook these positions as – if you're successful – the higher commission can more than makeup for the monthly shortfall.
Given the amount of driving the job will entail, you'll also possibly be offered a company car or at least a monthly car allowance for mileage. 
While wages will vary depending on where you're located, with Estate Agents in the capital typically achieving the highest earnings, in general, the following Estate Agent salaries apply: 
Trainee Estate Agents – £14,000 to £20,000, plus commission

 

Experienced Estate Agents – £25,000 to £60,000, plus commission

 

Managerial and high-end agency positions – up to £100,000

 
How do I get started as an Estate Agent?
This is definitely a job role where being confident and an excellent communicator matter more than qualifications. While there are no formal entry requirements, experience within the administration, customer services or sales will stand you in good stead for an entry position.
Given the amount of legislation that applies to this profession, the experience of legal work can also be advantageous. It's also important to brush up on your knowledge of the local housing market and the area – including vital information such as the location of schools, medical practices, amenities and road networks.
Given the amount of travel involved, you'll also need to possess a full driving license. Once you've secured employment, full training will be provided.  
In terms of qualifications, there are no specific minimum requirements. However, in order to get ahead of the competition, you can look to obtain Level 2 and 3 CPD Certified Estate Agent Diplomas prior to entering the profession. It's also worth looking at studying a related subject at HND, foundation degree or degree level, such as:  
Business and administration

 

Town planning

 

Property law

 

Civil and structural engineering

 

Building surveying

 

Property services

 
Larger agencies may offer fast-track graduate schemes or apprenticeships. You can also get a foot in the door by starting out in an administrative role, or by taking a Saturday job helping with weekend viewings. 
Competition for entry will vary not only depending on your location but also on the state of the economy, which has a direct impact on the housing market, and hence employment opportunities.  
What key skills do I need to become an Estate Agent? 
As an Estate Agent, you'll be dealing with people from all walks of life – from members of the public to architects and solicitors – so above all you need to possess outstanding people skills. This is a fast-paced, dynamic industry that requires a high level of commitment.
While fundamentally a sales role, in order to juggle clients and manage a property portfolio, you'll need to possess a wide set of key skills: 
Ambition, confidence and charisma

 

A polite, friendly and approachable manner

 

Excellent communication and customer service skills

 

The ability to multi-task

 

Highly organised 

 

Good administration skills

 

Impressive negotiating and selling skills to achieve sales targets

 

The ability to work under pressure

 

Patience and determination

 

Willingness to travel

 

Commercial awareness

 

An understanding of marketing techniques

 

Strong IT skills

 
What do Estate Agents do day-to-day?
The majority of Estate Agents are office-based, with frequent travel to properties for evaluation purposes and to undertake viewings. You'll typically work 37 to 40 hours per week, including some evening and weekend work.
Some agencies are independent, private practices while others are larger, with specialist divisions that encompass residential, corporate, commercial and rural property. Larger agencies will also typically provide additional services such as overseas property, property investment, planning and chartered surveying. As an Estate Agent, your role will be incredibly varied and will typically include: 
Keeping up to date with trends in the property market

 

Viewing properties to collect information, do measurements and take photographs

 

Liaising with sellers to discuss the property and advise them of the buying and selling process

 

Estimating the value of a property

 

Securing the listing with the seller at the agreed commission rate

 

Liaising with external suppliers such as floor plan designers to prepare marketing and advertising material

 

Promoting properties for sale

 

Meeting with prospective buyers and helping them find the right property

 

Undertaking property viewings

 

Collecting offers and presenting them to the seller

 

Negotiating an agreeable price for the buyer and seller

 

Helping arrange conveyancing and surveys, upselling in-house services if provided

 

Liaising with conveyancers, solicitors, other Estate Agents in the chain and surveyors

 

Monitoring sales as they proceed to completion

 
Once I'm an Estate Agent, what career progression is available?
There are excellent opportunities for career progression within an estate agency. From an entry-level position, as you gain experience and build a strong sales record, you'll move up the ranks from a trainee or assistant role to a fully-fledged sales negotiator. Within this role you can move on to a senior position, dealing with higher value properties and expand your role by mentoring new recruits. Ultimately you can become branch or area manager.  
Be aware that larger agencies will have more opportunities to scale the ladder as well as the potential to move you into new, related roles, such as chartered surveying and land management.  
If you want to be your own boss, you can choose to become self-employed as a partner within a business or even set up your own agency.  
It's important to note that – in accordance with recent changes in the legislature – career progression now goes hand-in-hand with professional development. This is welcomed by the industry body NAEA Property mark, as it establishes practice standards and ensures all Estate Agents work to the same code of ethics.
Estate Agents that are qualified chartered surveyors will also be required to follow Royal Institution of Chartered Surveyors professional standards.  
What are the best bits about being an Estate Agent?
If you enjoy meeting people and helping them find the property solution they need, then nothing will beat the satisfaction you feel when a deal reaches completion. Knowing you've helped people find their dream home is also an amazing feeling, especially when you hand them their keys.
You'll not be chained to an office desk and have plenty of opportunities to get out and about, conducting viewings in some amazing properties. When a sale's agreed and a client's happy, there's no greater sense of accomplishment than knowing you've done a great job.  
What are the challenges of being an Estate Agent?
This isn't necessarily a 9-5 job. You'll also work on Saturdays and may have to work overtime during busy periods. However, being busy means more sales, which means more commission, so most Estate Agents welcome these hectic sales periods.
You'll also have to juggle sales and inquiries, following up leads and monitoring chains. But, if you're a natural born multi-tasker then this will come naturally and not pose a problem for you.
You'll sometimes come across challenges – dealing with demanding clients or have deals that will fall through – so you'll need to possess the right combination of resilience, tact and patience.  
This career is for you if…
You love the art of the deal. Helping people find their dream property can be truly rewarding. You'll have to win hearts and minds along the way. But ultimately, there's no greater buzz than completing on a sale, knowing all parties are happy with the figure. Plus, you'll earn a healthy commission.